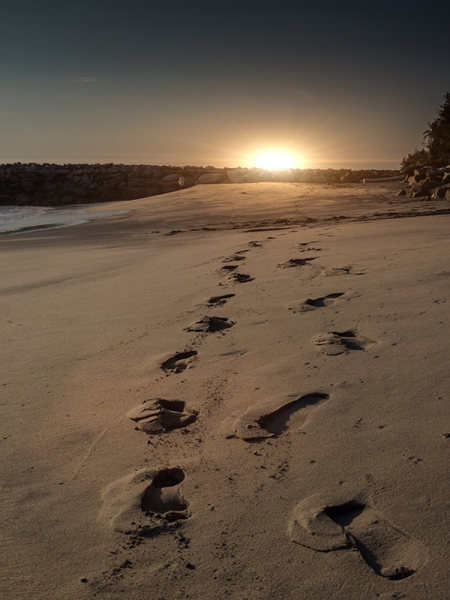 About 30 years ago, when I was in my early twenties, I was a typical New Zealand backpacker in India. I had spent a year in Taiwan teaching English, two rugged months in Nepal rafting and hiking, and now I had descended down onto the seemingly endless dusty plains of India to continue my journey.
I was independent minded and traveling alone suited me. Town after town, temple after temple, market after market, India was (and continues to be) a place of extreme sensory experience: I can still smell the human suffering in the slums, see the brightly colored saris of the women vendors along the roadsides, hear the persistent call of Temple bells, which represent the sound of 'om' they told me.
And if I ever forgot that I was far from home, the taste of the food, full flavor and exotic; and the heat, you can't forget that, the powerful midday sun turning my skin dark brown.
Life is lived to its fullest in India. And yet without really knowing why, I began to feel a restlessness growing within me. I had been moving within the sacredness of Indian culture and somehow it allowed me to see that something was missing in my life though I didn't know what it was.
And as the weeks passed into months I could feel this restlessness growing. Indian's deep sense of knowing herself was showing me how little I really knew my self. I realized that I lacked a sense of inner contentment. I began to long to experience a connection with this part of myself that wanted to be happy. I needed to find a way to cross this gap…I needed a bridge.
And it was at this time that I met Amma.
Spending time with Amma it became clear that for me meditation was that bridge.
I was extremely lucky to come to Amritapuri and find such a wholesome environment for my practice to develop. I can look back and see that the ashram gave me three different kinds of support that I needed:
The first one is that Amritapuri is a sacred place that uplifts anyone who comes here…and also that it's safe, clean and comfortable; a space where I can really relax and focus.
The second is the time to practice. This time allows me to create momentum in my practice. 
And lastly it gives me a way to be able to walk the path with other seekers; a harmonious and supportive community of friends who are practicing together…I feel like we're all one family. 
I like to think of these as the three legs of a three-legged stool: when all three are present there's harmony and balance; and when something's missing, there'll be tension and instability.
I know when my stool has all of its legs I will approach my meditation practice with confidence and patience.  
I am grateful to be part of a wonderful team who are dedicated to serving our retreat participants, encouraging them to build and cross their own inner bridge.
For me it's a dream come true.
I have come to the conclusion that the most rewarding way to continue to build my own inner bridge is to support others build theirs!
https://www.amritasilentretreats.com/wp-content/uploads/2018/09/logoSR-1.png
0
0
Haran McIndoe
https://www.amritasilentretreats.com/wp-content/uploads/2018/09/logoSR-1.png
Haran McIndoe
2018-09-24 04:15:27
2018-09-29 03:30:14
The Three-Legged Stool